ABC offers marine curtains for all boat lift brands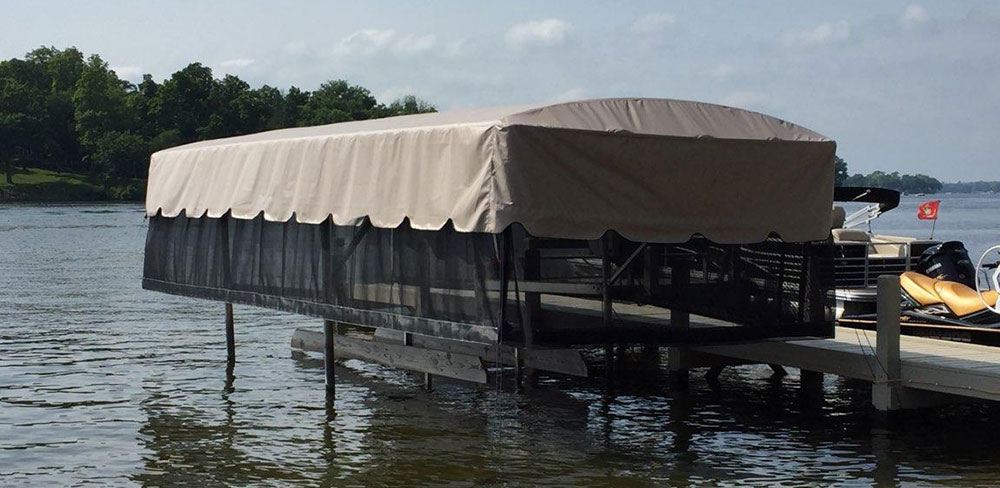 Our marine curtains are separate vertical fabrics of varying lengths that cover the sides of your boat lift to provide extra protection. They are available in varying lengths and materials. We also offer additional options including vents, zippers, storage shelves and roll-up doorways. Curtains can be equipped with mesh venting strips or be completely mesh for increased air circulation. If you are ordering a replacement cover, curtains can be added in the exact color and materials. Call us today at 866-776-5617 for more information or to place a custom order.
Supported and unsupported curtains
Some boat lift manufacturers include additional framework below the canopy to support vertical fabric. For boat lifts that do not offer this, you have the option of adding unsupported curtains. The lack of support makes the curtains susceptible to wind whip failures. Unsupported curtains are not covered under warranty for wind whip failure.
ABC Canopies can be ordered with:
Custom curtain drop length
Customized dock roll-up door access locations
Large boat roll-up door access
PVC pockets to protect against wind whip
Adjustable side-release attachment clips to ensure fit and tension
Canopy storage shelves available from 78" – 125" (inside dimension)
Marine curtains are available in multiple fabric types, including:
Shelter-Rite SR18
Mesh
Harbor-Time